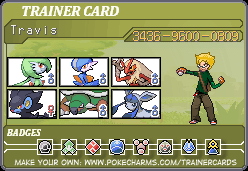 -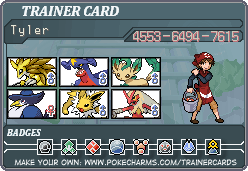 It's that time again - time for another Pokemon Werewolf, brought to you by Lindsey and I!
...Well, mostly me. Lindsey (and Tyler) will once again be joining me as a semi-cohost - mostly because she spent tonight listening to me blab about the game. Also, she'll be drawing pictures. Yay pictures!
If you'd like to play, please sign up in this here thread! I'm asking for signups a bit early, because I don't know how many people will be interested. I have a feeling it will be a few less than last time, but by asking you guys to sign up before I have an exact start date, I can get an idea of whether or not I'll need to make an extra team to play. (That means signups is NOT limited to a number of people! Though it will be best if we're a number divisible by 5... so if say, 24 people sign up, try to hunt down a 25th person and force them to play ;D)
Also, when you sign up, please include how much you know about Pokemon! Are you an expect who's played all the games and can do the entire first Pokerap? (And Joey, we already know you can!) Are you a newbie who doesn't know a whole lot, but rather enjoys it? Or are you like some people (*cough*E*cough*) and you loathe Pokemon with every fiber of your being, but you just can't resist a Werewolf game? This will help me with teams a bit - the members will be picked mostly at random, but this way I won't have an entire team that knows nothing about Pokemon!
Signups are tentatively until October 3rd. I know this is a long wait, and if they slow to a crawl I'll probably stop beforehand! But like I said, this is so I can figure out if I need to add an extra team or not.
Barring any
disruptions from my ovaries
this time, the game will begin on October
5th
6th! (so someone who will be gone that weekend can still participate xD)
Geez, longest signup post ever? Perhaps! But sign up! Hooray!
ETA: Oh! If you think I won't know your gender, PLEASE tell me when you sign up xD It was so embarrassing calling people by the wrong gender last game (or constantly having to ask Jazzy if she knew xD) Some of you guys are so androgynous!
Current Players
Jamie
Fjorab_Teke
Seerow
Arviragus
Joey
Rainbow Daydreamer
Sezrin
Slugawoo
Kari
Tom
Adi_gallia
Foghawk
Kantark
Roger9614462
EofS
Dunx5000
Gibblywibbly
Hebdenhippy
WisteriaLynx
Mayhem
Huggles
Kidnemo
thelonetiel
mellaka
Kudamon Tamer