Colourmeister
Posts: 1110
Joined: 21 Jan 2006 01:52 am
Gender: Male
Location: My mind, but I leave it frequently.
Contact:
"You're a wizard, Harry."
"You can call me Rob. I'm from accounting."
For a closer look:
Faster than a speeding cheeseburger, but not by much.
---
Posts: 385
Joined: 06 Feb 2012 02:53 am
Gender: Female
Location: Neovia
Contact:
The actual Zombom, for reference: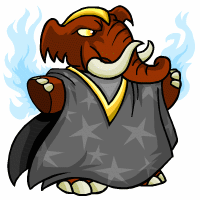 Halloween Elephante:
Falling into the "costume" section of Halloween pets, this matches the character well while adding some much-need details (like the gem on the forehead piece). The magic effect on the hand is also really nice. I just wish the cloak was shaded better - the gradient makes it look a bit flat.
Zombie Lenny:
This might be my favorite zombie pet yet! The tie really gives the feeling that this pet could have been alive once, and the bent and broken feathers are a nice undead touch. It also has some nice details (like the bites on the legs) and very good texturing. No issues here.
---
Users browsing this forum: No registered users and 3 guests