Colourmeister
Posts: 1182
Joined: 21 Jan 2006 01:52 am
Gender: Male
Location: My mind, but I leave it frequently.
Contact: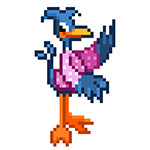 "Two, four, six, eight, who do we appreciate?!"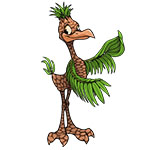 "My name is Fern and I'm feeling vine."
Larger:
Out to lunch.
Faster than a speeding cheeseburger, but not by much.
---
That's a pretty respectable 8-bit, nicely defined but not too detailed. Possibly a bit more 16-bit colour-wise though.

Woodland is an interesting idea, some kind of palm tree I guess? I noticed that tuft of greenery coupled with the bark texture makes its head look like a pineapple and I can't now unsee it.

Neopets: sparkygoesforth, decommissioned, nightfall, LiveJournal:kantark, Last.FM:Kantark
---
Posts: 385
Joined: 06 Feb 2012 02:53 am
Gender: Female
Location: Neovia
Contact:
8-bit: This is nice! The pose could have stood to be a bit different, but the pixelation is well done. It's also one of the few 8-bits I've seen where the clothes actually add to the pet and don't look tacked on.

Woodland: I'm glad to see they went with a specialized plant - a palm tree was a great choice. I only wish the leaves on the head were a hair longer so it didn't look so pineapple-ish.
---
The Lenny is one of these pets that has really few bad colors. Grey is the only Lenny I'd refer as bad.

Two solid additions. Especially that 8-Bit.
---
Users browsing this forum: No registered users and 2 guests