The reason it looks high to me is because it appears to be smiling. In the sad pose, it doesn't even seem to be sad, just looks like he overdid the Visene a little.
Angry to me looks like... you know when dogs scoot around on their butt when it's... ichy I guess?
Well, I suppose that does make one angry, but hey.
The face in ranged looks weird to me, something about the jawline: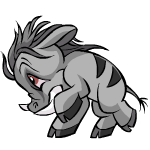 Lazy beaten = shame.
Then again, I personally didn't expect much from the Grey Moehog.
4/10 to me