About two months of zapping and Klieq - whom I adopted from the pound as a Christmas Gelert without any accessories - is now a Faerie Ogrin.
But...
Goddamn, it, Neopets.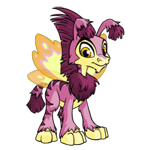 This is so boring and the wings aren't even attached to its BACK??? This pisses me off to no end.