It's been AGES since I started a pet picture thread here, so I figured in honor of the forum upgrade and move, we're in need of a new one! So without further ado, here's my kids!
(oh... very picture heavy, sorry. ;_; I take big pictures, and lots of them xD)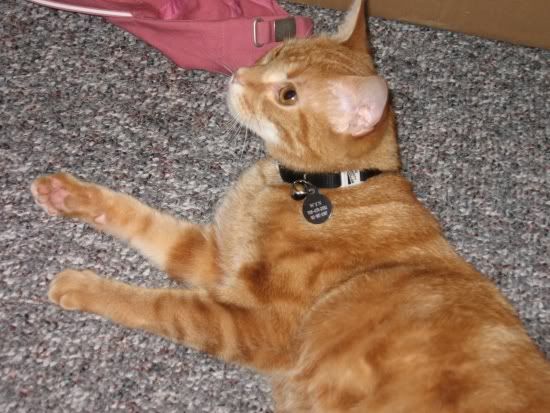 This is a sorta-recent picture of the cat you all know and love, Wyn! Actually, the last time you guys heard me talk about Wyn a lot was probably this past spring when he was very ill. You'll be happy to now six months later he's completely healthy, happy, and bratty as ever!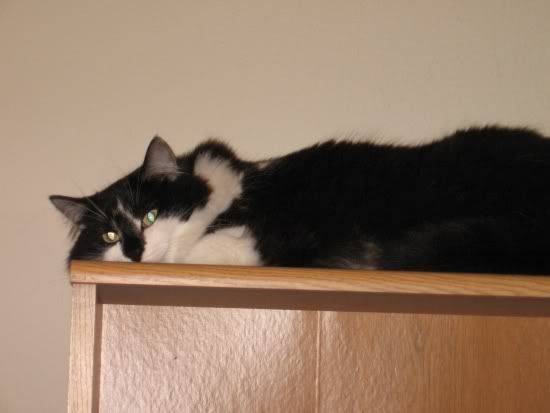 This is FMD's fluffer butt cat, Alys. She's our chub maine coon who does nothing except act stupid all day. Really, that's what she does.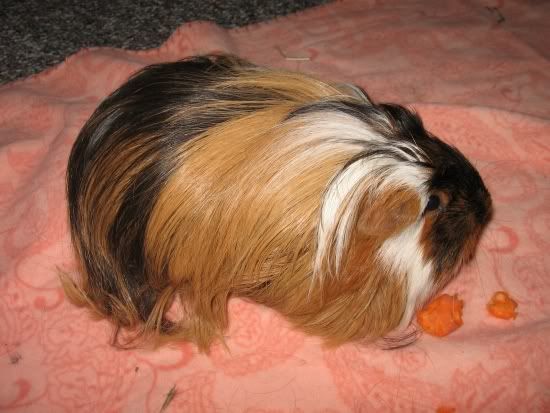 Guinea pig time! This is Mint, our year-and-a-half year old torti-and-white silkie pig. She's a total bitch. Really, she is. She bites FMD every time she picks her up xD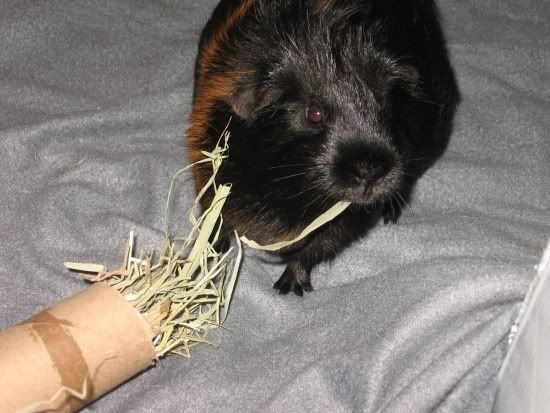 And this is Reese, our torti ridgeback. She's a bit of a chub, and not as bitchy as Mint - she's a bit more shy til you get her out of the cage, then she's a bit of a butthead xD
And now, the time you've all been waiting for... RAT PICS!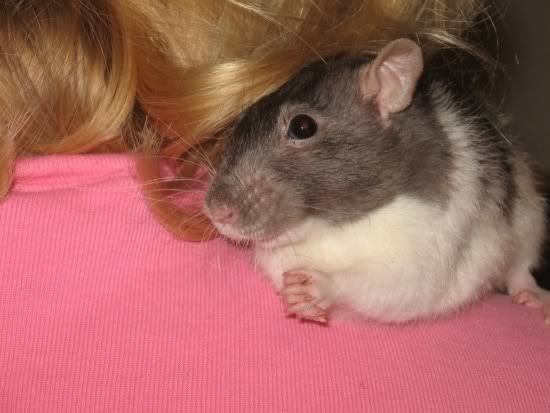 We must start with Kai - she's everyone's favorite. And this is one of my favorite pictures of her to date. Actually, I have about 50 favorite pictures of her, but this one is just beyond adorable. That's her sitting on FMD's shoulder. Look at her little hands ;___; Gah! Kai's a black veriberk rex for those of you that want to know, though she's become incredibly rusty in old age xD
That's Kuro(ppi), a black variegated on the left and Kana, an agouti hooded on the right. Kana, along with Kai, were our first rats and are our two old ladies. Kuro's actually one of the younger ones, but she's a year old now and INCREDIBLY big. Poor Kana has had surgery to have tumors removed, and now she has another that we're opting not to have surgery on ;_; But she's still fat and happy and healthy and in charge of the cage - she's always kicking the other girls' butts!
That's Tomo, our beige hooded, but she hates getting her picture taken xD So here she is, hiding in the wodent wheel and eating some kiwi you can't see.
This is my Brie-bear <3 She's a blue agouti hooded and my little angel. She's a bit of a brat - she used to sneak out of the cage and make HUGE stash piles of anything shiny she could find, so when we cleaned this room we'd find all sorts of surprises xD Now she just lazes around a lot, but we love her anyway <3
This is one of our two new, recently-adopted little babies! This is Zygs, although we call her Ziggy - which has no relation what-so-ever to NC Ziggy (in fact, we almost didn't name her Zygs because of Ziggy, and I knew I'd pretty much only ever call her that xD) We THINK she's a blue berkshire but her fur seems to have silver ticking in it to me... Lindsey disagrees, but Lindsey's a turkey. She's a total nut - Zygs, not Lindsey, that is. She loves to tease the cat, to run around and play, to steal food from her sister. She's going to give the big girls a run for their money when she gets out of quarantine!
And last but certainly not least is our other new baby, Leaf, a little himi girl. She's absolutely adorable and so incredibly gentle and sweet. She just wants to cuddle and kiss and takes a lot of grief from Ziggy (her sister xD). But we love them both so much already.
And.. and we have a budgie, Hal, but we don't have pics yet ;_; when I take some I will add them. So.. for now, that's it!
...
One last Kai pic xD