Hey guys, I'm trying to get all of my permies a petpet and love browsing petpet-suggestion threads. Two birds with one stone!
Swindles the Pirate Gnorbu
Typical pirate, very much in to petty theft etc. (Couldn't resist with her name...). No idea what to get her, pirate petpets could go well but I'm open to any suggestions.
Colpys the Maraquan Ixi
Somewhat of a try-hard evil genius, think 'underwater lair'. I like my aquatic pets to have aquatic petpets.
Fetta the White Kau
I created Fetta because I love feta, and Kaus. I thought it was a little fitting. She got zapped White today and I'm going to keep her like that for a while.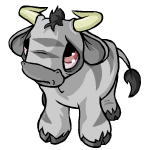 Zayyii the Grey Kau
Trying to come up with a personality for this one again. I'll probably base it on a good petpet match, so go ahead.